First reported by: Immigration News Canada
Recently, the case of Karamjeet Kaur from Canada has garnered attention due to allegations of misrepresentation. Karamjeet, an international student who arrived in Canada on a study visa in April 2018, is facing deportation despite claiming ignorance about the fake college offer letter she received.
Jump to:
Latest Update On Karamjeet Kaur Canada Case
Karamjeet Kaur's deportation has been temporarily postponed by a federal court just days before she was supposed to leave.
Justice Alan Diner approved a motion on May 27, delaying the removal order until a final decision is made regarding Kaur's request to postpone the deportation.
Diner expressed concerns about how the officer handled the risks associated with Kaur's return to India.
Kaur's lawyer emphasized the importance of allowing her to stay in Canada until her humanitarian leave application can be fully evaluated.
The lawyer also highlighted the serious threat to Kaur's life if she were sent back to Punjab, especially considering that the immigration agent involved in her case is facing criminal charges.
"This person is still free, and he's threatened to throw acid at her, as well as her family," Istvanffy added. "Acid will be thrown on her or she will be killed."
He mentioned that her brother in Punjab had suffered a severe assault on the preceding Sunday.
According to Istvannfy, Kaur faced additional risks due to circulating images of her participation in a protest supporting the Khalistani separatist movement.
He expressed doubts regarding previous assurances by officials that Kaur would be safeguarded by the state upon her return to India.
Istvannfy argued that Punjab is currently undergoing a human rights catastrophe, asserting that the pre-removal risk assessment has "nothing to do with reality."
Istvanffy also highlighted Kaur's achievements in Canada, noting that she possesses a diploma in business administration and her four-year employer is "extremely satisfied with her services." Additionally, Istvanffy mentioned that Kaur recently got married last month
What happened with Karamjeet Kaur?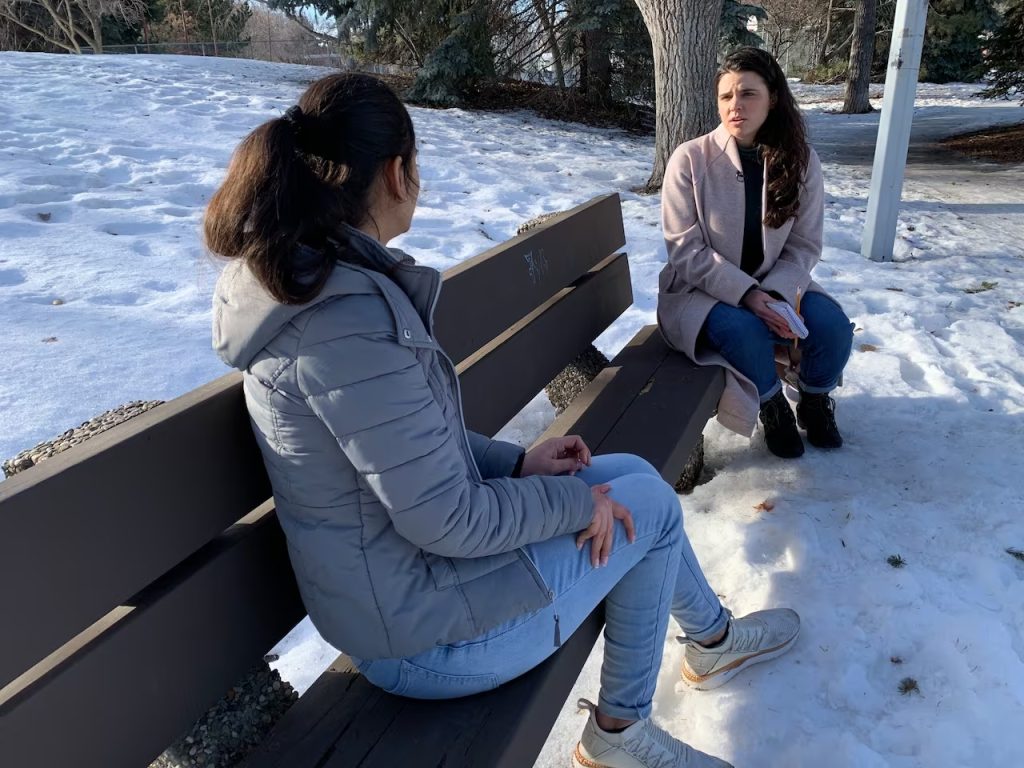 Deception by an Immigration Consultant
Karamjeet Kaur, a 24-year-old from Punjab, India, sought help from an immigration consultant to apply for a Canadian study visa. Despite never meeting the consultant or signing any documents, she received a fake acceptance letter from Seneca College in January 2018.
She travelled to Canada in April 2018 but couldn't attend Seneca College due to a dispute between the consultant and the college. Instead, she completed a Business Administration diploma at Norquest College in Edmonton.
During a May 2021 interview with the Canada Border Services Agency (CBSA), Karamjeet discovered the fake acceptance letter and learned that the consultant is facing criminal charges in India.
Canada Immigration Division (ID) Findings
Responsibility and Misrepresentation
The Canada Immigration Division (ID) conducted an investigation into Karamjeet's case. Although Karamjeet had not personally signed the visa application form, the ID questioned whether she had indirectly made a misrepresentation.
During the hearing, Karamjeet admitted that her cousin had forged her signature on one of the application documents, specifically the Use of Representative form.
According to the ID, "Ms. Kaur was aware that an application was being submitted on her behalf, and it is clear from her own admission that she was complicit in the commission of the misrepresentation."
The ID (Immigration Department) stated that it was the Applicant's duty to ensure that her application was complete, accurate, and complied with the law.
Consequently, the ID concluded that the Applicant was aware of the consultant and her cousin submitting an application on her behalf, which led to misrepresentation.
Consideration of the Defense of Innocent Mistake
Karamjeet's defence argued the possibility of an innocent mistake. While she genuinely believed that she had been admitted to Seneca College, the ID found that her belief was unreasonable. The ID emphasized that it was her responsibility to ensure the accuracy and completeness of her application.
Judicial Review In The Federal Court Of Canada
Challenging the ID's Decision
Karamjeet Kaur challenged the ID's decision in the Federal Court of Canada. Her defense raised issues with the ID's findings and decision. One of the arguments presented was that the unsigned application should be considered null and void, according to the regulations.
However, the court noted that Karamjeet had obtained a study visa and utilized it for her subsequent applications, making her claim inconsistent.
Examining the Innocent Misrepresentation Test
Karam's Defense: She argued that the ID incorrectly interpreted the question regarding her admission to Seneca College. According to her, the actual question pertained to whether it was reasonable for her to believe that the letter of admission from Seneca College was genuine.
The Federal court referred to a previous case judgment, "The Applicant placed her trust in an immigration consultant and was deceived. However, these circumstances do not absolve the Applicant from the consequences of her misrepresentation."
Moreover, the Court cited an "applicant is always responsible for the content of their application, and the belief that he or she was not misrepresenting a material fact is not reasonable where they fail to review their application and ensure its completeness and veracity"
If the innocent misrepresentation exception applied?
Regarding the application of the innocent misrepresentation exception, Karam's defense argues that the ID failed to take her specific circumstances into account. She contends that the ID disregarded the fact that she is a young woman with disabilities, facing persecution, hailing from a rural area in India with uneducated parents.
Karam asserts that the ID placed excessive emphasis on her activities after arriving in Canada, instead of considering what actions a disabled and oppressed woman in India would have taken under similar circumstances.
Federal Court finding:
The court agrees with and acknowledges that the ID thoroughly examined and addressed the circumstances presented by Karam, as outlined by the ID below:
Moreover, although Karam portrays herself as disadvantaged and lacking resources, her higher education background in India raises questions about this claim, particularly considering her previous degrees in computer science.
Consequently, the Federal Court of Canada upheld the decision made by the Immigration Division (ID) and issued the exclusion order.
Karam has currently submitted an application for humanitarian and compassionate (H&C) consideration, and we remain hopeful that her H&C application will be granted in her favor.
Conclusion
The case of Karamjeet Kaur highlights the risks and consequences faced by individuals unknowingly involved in fraudulent immigration practices.
It serves as a reminder for prospective immigrants to exercise caution, verify the authenticity of their documents, and seek reliable and reputable immigration consultants to avoid such situations.
The final determination of Karamjeet's case will shed light on the outcome of her application for H&C consideration and provide insights into the implications of misrepresentation in immigration processes.
Read More:
Top Jobs for International Students in Canada: Opportunities and Resources
Latest Data: 10 Safest Cities to Live in Canada